OOKSAN IMT Co., Ltd. is your partner that
provides the total solution of production equipment with the
use of customer-optimized technology and service.
To respond to users' diverse needs, OOKSAN IMT Co., Ltd.
provides the high-speedy and precise optimal systems for Proposal,
Engineering, Making & Installation, and Follow-up Management in line with global trends.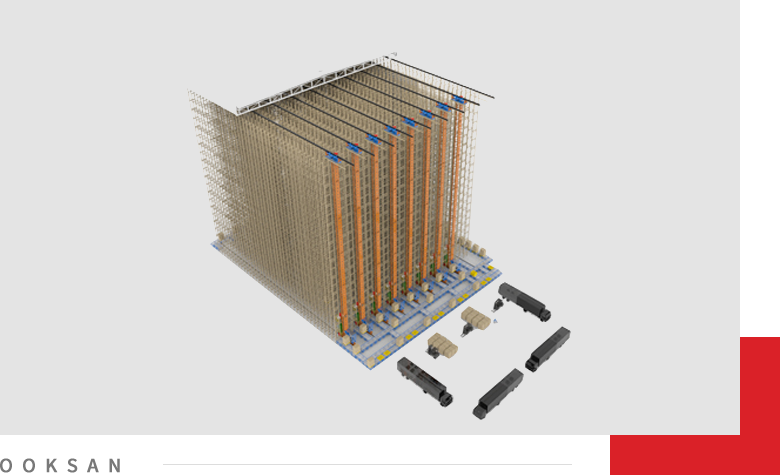 We provide the perfect technical service for the design and installation of automated storage/retrieval system.
The standardized design of OOKSAN Co., Ltd. Automated Storage/Retrieval System makes it possible to respond actively to system expansion and remodeling, and supports solutions that meet various conditions, such as high load, high rise, and high speed. In addition, it achieves a lot of industrial performance in diverse areas, including electricity & electronics, automobile, food products, and pharmaceuticals.
Secondary Cell/ Electricity/ Electronics
VIDEO
Main Business Achievements
Year
Achievements
2021
Samsung SDI Hungray Car battery Stack Aging Line / Module & Pack cell AS/RS
2020
Samsung SDI Hungary Car battery Aging Line / Module & Pack cell AS/RS
2019
Jinping New Energy Cylindrical 32700 Cell Automated Aging Line
2018
Samsung SDI Car bettery Aging Module Line
Samsung SDI Hungary Car bettery Aging Line 4
PNE Guolian Pouch Formation Process Logistics Automation Equipment
Samsung SDI Mid-Large Cheonan M Line AG Automation Equipment
2017
PNE Huizhou EVE Formation Process Logistics Automation Equipment
2016
PNE Tianneng Pouch Charging/Discharging Warehouse
2014
Samsung SDI, Automotive Battery Cell China Line 1
Samsung SDI, Automotive Battery Cell Formation Line 4
2013
Samsung SDI, Automotive Battery Cell Formation Line 3
Samsung Display, Mobile Module Auto Warehouse (10,000 Class clean room)
2012
Samsung SDI, Automotive Battery Cell Formation Line 1
2010
Samsung SDI, Charging/Discharging Auto Warehouse Remodeling
2008
Samsung SDI, Formation #1 S/CRANE Making
Main Customers