OOKSAN IMT Co., Ltd. has accumulated technologies
through its long experience and research.
Based on them, the company does the best to supply better equipment
in order to live up to customers' expectations.
Development of High-speed Stacker Crane Technology in High-temperature Setting
(1000class clean)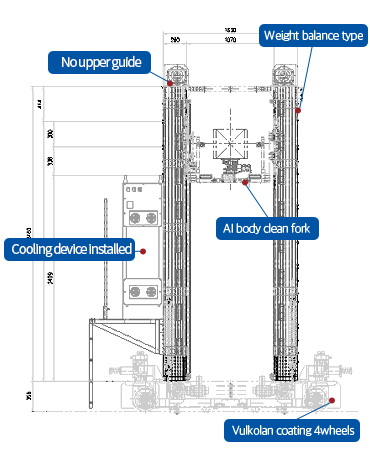 With our multi-year technology know-how and various solutions, we research the stacker crane that fits high-temperature and high-speed driving settings, and design the equipment applicable to 1000 Class Clean.
National support project: Technology Innovation Development (joint development of technology with Pusan National University)
Research period: Aug. 1, 2012 to Jul. 31, 2014
Total research cost: about 900 million KRW
Structural and dynamics analysis
Specification
Specialties
Environment
Cleanroom

Testing in the severe condition of over 65℃ for finding the equipment's lifespan at high temperature
Excellent stop level
Structural design to minimize the shaking displacement of the upper side
Electroless N1 plating, Non-refined powder coating

Driving speed
300m/min
Elevation speed
60m/min
Forking speed
7sec/tack time, 0.85st
lift Stroke
3150mm
Development of highly-efficient sintering device for manufacturing positive electrode active material (secondary cell)

A sintering furnace for manufacturing the positive electrode active materials of lithium secondary cells is capable of removing smoothly the gases (CO2, CO) generated at the time of synthesizing positive electrode active materials and thereby of making it easy to synthesize such materials. Our company developed the highly-efficient sintering device for manufacturing the positive electrode active materials, which supports composition of multiple atmospheric gases and uniform furnace temperature.
National support project: Energy Resource Technology Development (joint development of technology with Pusan National University)
Research period: Jun. 1, 2010 to May 31, 2012
Total research cost: about 1.1 billion KRW
Design based on conditional current and temperature analysis
Development of efficient air supply and exhaust system
Implementation of uniform internal temperature
Remote control and monitoring system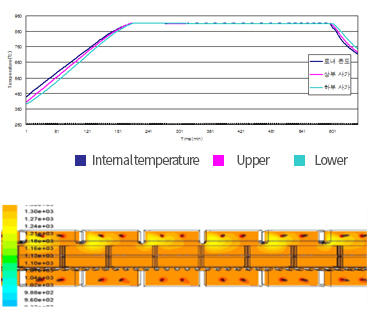 Upper & Side Supply Lower Exhaust System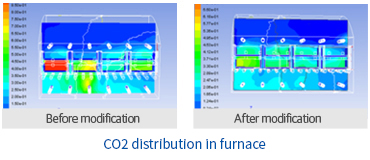 Smooth contact of gases (e.g., O2) for synthesis
Material rise speed 10% up by convention heat -> Time shortening
Efficient at CO2 exhaust
→ CO2 generated after synthesis stays on the bottom
→ Efficient removal of CO2 through lower exhaust
Precision research through thermal analysis
Design & pilot-test through flow field analysis
Uniform temperature
±5˚C
Supply & exhaust system
Efficient supply and exhaust system
Driving type
SIC Roller, Friction driving
Efficiency
Two-layer loading based productivity improvement and energy saving effect
Final goals

Localization and commercialization of the sintering furnace for manufacturing positive electrode active materials of lithium-ion cells
Development of the highly-efficient sintering furnace with over 150% improved productivity (two layers)